"I brought my husband to Newry for Oxygen Therapy. My Husband has cancer. The staff are great, made me and my Husband who is also claustrophobic, feel at ease and welcome from the word go. The centre is comfortable and relaxing.
I feel the Oxygen Therapy has helped my husband especially his energy levels. It all makes the journey from Belfast to Newry worthwhile".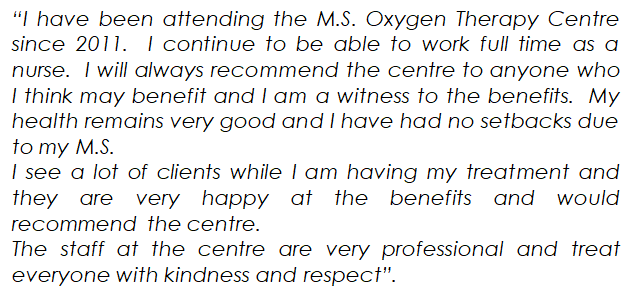 "I have been attending the Centre for 5 years to help with my MS symptoms. I find Oxygen Therapy helps with my fatigue and my general health, I really could not do without it. The staff are wonderful and caring and make the sessions very enjoyable. I could not recommend Oxygen Therapy enough for a wide range of ailments as it has great healing properties".
"I have been using HBOT for the last six years on a weekly basis. I have Secondary Progressive MS and am still managing to use a walker for short distances. I find the Oxygen Therapy helps my body to stay healthy and therefore I am able to deal with the problems MS gives me. I enjoy my sessions as they allow me to meet and speak to different people and give me a chance to be away from my house on a regular basis. The staff are a constant pleasure to deal with and nothing is too much of a problem for them. I so look forward to my Monday trip out".
"Great improvement after 5 sessions, with a fractured pelvis and was able to return to work after 10 days"
"The treatment has given me more movement, my quality of life has improved – less pain and reduced medication"
"I would like to thank you and all the staff at the oxygen therapy centre for the treatments and all the help you gave me and my daughter over the summer. I am very happy to tell you that she is doing very very well since the treatment. Her narcolepsy/sleep Apnoea symptoms have reduced a lot. She hasn't fallen asleep in school since she went back to school at the end of August. When she gets home in the afternoon she has a lot of energy to do her homework and go for after-school activities. She is not tired all the time like she was before the treatments"
General guidance, especially on protocols and the likelihood of benefit, is obtained from the coordinator of the Oxygen Helpline Petra Kliempt BSc MPH PhD, who is the Hon. Specialist Trainer in Hyperbaric Medicine to the NHS in Scotland. The Oxygen Helpline and MS National Therapy Centres are also assisted by the Hon. Medical Adviser Emeritus Professor Philip B.James
Our centre operates a self-referral process.
It is always recommended that clients visit their GP or Consultant before commencing HBOT.
There is no intention implied or otherwise that HBOT is given so with the intention of it being a cure diagnosis or as a preventative for any disease. Any references, studies or testimonials on our website, or in our literature does not imply that similar results will occur when the same therapy is experienced by another.